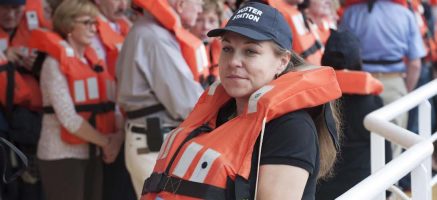 Product code: #6403.1
Version 1
$

100.00
Excl. Sales Tax
Description
During an emergency on a passenger vessel, ensuring passengers are kept safe is of the upmost importance. This course on Crowd Management focuses on assisting passengers in an emergency, how to deal with large crowds, including their safe movement and discusses human behaviour in an emergency.
It is mandatory for all crew members who have a duty to assist passengers in emergencies to have training.
This course:
satisfies the requirements of the code section A-V/2 & 3 paragraph.
This course is divided into two parts. The learning part may be completed online from any location. The assessment part must be completed under direct supervision at a Marlins Approved Test Centre*
On completion of this course you will receive a Certificate of Proficiency from Ocean Technologies Group, powered by Marlins.
*additional fee payable to the Approved Test Centre
What you'll learn
Human behavioural patterns commonly displayed during a crisis or emergency.
How to to maintain control, reduce panic and encourage calm in an emergency or crisis situation.