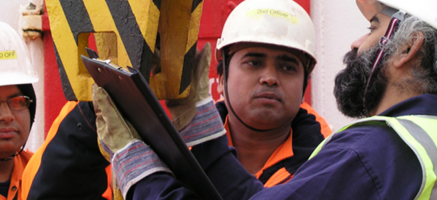 Product code: #6345
$

200.00
Excl. Sales Tax
Description
This course explains how to put risk assessment into practice on board ship. Candidates will understand that risk assessment is a useful tool that helps prevent accidents, incidents and injuries at sea. The course is based on the principles of good seamanship and provides a comprehensive understanding of risks and hazards onboard ship.
On completion of this course you will receive a Documentary Evidence from Ocean Technologies Group, powered Videotel.
What you'll learn
be able to identify risks and hazards,
understand the principles of risk assessment
be able to follow a systematic approach to carrying out risk assessment themselves
Course Contents
The course includes the following components.
Module #654.00 - Risk Assessment at Sea, Introduction
Module #654.01 - Risk Assessment at Sea, Planning and Organisation
Module #654.02 - Risk Assessment at Sea, Assessing the Risk
Module #654.03 - Risk Assessment at Sea, Applying the Risk Assessment
Module #654.04 - Risk Assessment at Sea, What are the Hazards?
Module #654.05 - Risk Assessment at Sea, Assessment
Supporting Material
Download below:
Prerequisites
There are no pre-requisites for this course
Regulations
This course has been developed in accordance with Chapter 1 of The Code of Safe working Practices for Merchant Seafarers
Approvals
Maritime and Coastguard Agency
Acceptance
This course may be accepted by other maritime administrations. Please contact us for details.
Available In Languages
English