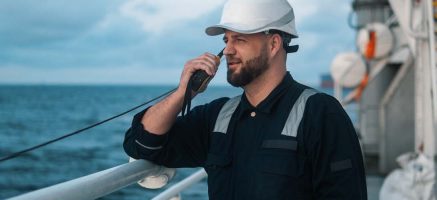 Product code: #6340
$

400.00
Excl. Sales Tax
Description
The function of the shipboard safety officer is to provide seafarers and the shipping company with the necessary advice and assistance to maintain a healthy and safe living and work environment onboard ship. Normally safety officers are appointed on ships with 5 or more seafarers onboard and this course provides the training required by those newly appointed or about to be appointed to the role.
On completion of this course you will receive a Documentary Evidence from Ocean Technologies Group, powered by Videotel.
What you'll learn
Understand the role of a Safety Officer
Understand the role of a Safety Representative
Understand the importance of a good safety culture
Identify common hazards onboard ships
Describe health and safety precautions that should be taken to protect the ship's crew
Understand the importance of a good risk assessment system
Course Contents
The course includes the following components.
Module #646.01 Safety Officer, ISM Code - Outline
Module #646.02 Safety Officer, ISM Code - Procedures and People
Module #646.03 Safety Officer, Your Role as the Safety Officer
Module #646.04 Safety Officer, The Safety Committee
Module #646.05 Safety Officer, Shipboard Familiarisation Under STCW
Module #646.06 Safety Officer, Safety
Module #646.07 Safety Officer, Creating a Safety Culture
Module #646.08 Safety Officer, What is Risk Assessment?
Module #646.09 Safety Officer, How to Apply Risk Assessment
Module #646.10 Safety Officer, Safety Inspections
Module #646.11 Safety Officer, Permit to Work Systems
Module #646.12 Safety Officer, Accident Investigation
Module #646.13 Safety Officer, Emergency Procedures 1 (SOLAS)
Module #646.14 Safety Officer, Emergency Procedures 2 (Drills)
Module #646.15 Safety Officer, Assessment
Supporting Material
Download below:
Prerequisites
Candidates must be at least 18 years old and have 12 months sea service (in any capacity) onboard ship.
Regulations
The Safety Officer Training Course has been developed in accordance with:
• Chapter 13 of The Code of Safe Working Practices for Merchant Seafarers
• The relevant parts of IMO Model Course 3.11
• UK Statutory Instrument 1997/2962 and UK MNTB Guidelines
This course may be accepted as evidence of compliance where training for the role of shipboard safety officer is required, for example: The ISM Code, TMSA3, VIQ7, STCW Table A – II/2, III/2, Section A – III/3 etc.
Approvals
Maritime and Coastguard Agency
Acceptance
This course may be accepted by other maritime administrations. Please contact us for details.
Available In Languages
English