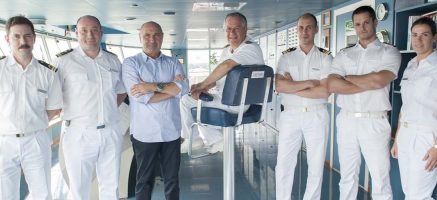 Product code: #6140
$

300.00
Excl. Sales Tax
Description
It is of utmost importance that all personnel involved in and having responsibility for passengers are able to understand their reactions and how they will act when they are in a critical situation. This course will give personnel on board knowledge and understanding for the contingency plan, specific duties on board and how to handle a situation when a crisis emerge.
The onboard Crisis & crowd management course covers the minimum mandatory training requirements for personnel onboard passenger ships. The course consists of two e-learning modules and a workbook.
On completion of this course you will receive a Documentary Evidence from Ocean Technologies Group, powered by Marlins, Seagull and Videotel.
Please note:  This course must be completed onboard ship. The Master/senior officer onboard must sign and stamp your application form to verify they have directly supervised your eLearning assessment(s).
What you'll learn
Give Masters, Officers, Ratings and other personnel on passenger ships ref STCW Section A-V/2 para. 1-3 required training to be able to handle critical situations on board
Course Contents
The course includes the following components.
Module #0073 - Crisis management
Module #0082 - Crowd management
Workbook - Crisis And Crowd Management
Supporting Material
Download below:
Prerequisites
There are no pre-requisites for this course
Regulations
STCW 1978, as amended, Section A-V/2 and table A-V/2
IMO Model Course 1.28
IMO Model Course 1.29
Approvals
Norwegian Maritime Authority
Acceptance
This course may be accepted by other maritime administrations. Please contact us for details.
Available In Languages
English