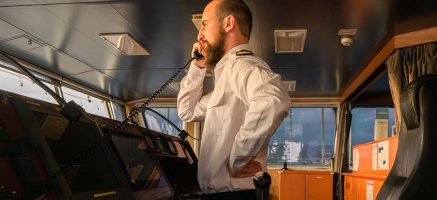 Product code: #6322
$

450.00
Excl. Sales Tax
Description
When the ISPS Code was introduced in 2004, most ships were required to have a Security Officer. The training requires that the Ship's Security Officer (SSO) will maintain an effective security system on board working in conjunction with the Company Security Officer (CSO). The purpose of this course is to give those seeking a certificate of proficiency as a Ship Security Officer the requisite knowledge needed to meet the requirements of Chapter VI of the STCW Convention and Code 1978, as amended by the 2010 Manila amendments.
Please note that the learning and assessment of this course must be completed onboard ship, under the direct supervision of the Master or other senior officer.
On completion of this course you will receive a Certificate of Proficiency from Ocean Technologies Group, powered by Videotel or Seagull.
What you'll learn
The Roles and Responsibilities of the Company and Ship Security Officers
The Responsibilities of Seafarers with Designated Security Duties
The Ship Security Assessment and Ship Security Plan
Reporting Procedures
Defensive and Protective Measures Including Searching People and Searching the Ship
Drills and Training
Anti-piracy Measures and Practices
Emergency Measures
Course Contents
The course includes the following components.
Module #644.01 Shipboard Security Officer, Introduction
Module #644.02 Shipboard Security Officer, Security - Organisation and Responsibilities
Module #644.03 Shipboard Security Officer, Security On Board - Planning and Management
Module #644.04 Shipboard Security Officer, Security On Board - Routine Defences
Module #644.05 Shipboard Security Officer, Emergencies
Module #644.06 Shipboard Security Officer, Assessment
Workbook - Ship Security Officer
Supporting Material
Download below:
Prerequisites
Please refer to the course Documentation Checklist for information on course pre-requisites.
Regulations
The Ship Security Officer course has been developed in accordance with:
Regulation VI/5 and Section A-VI/5 of the STCW Convention and Code (2010)
Chapter XI-2 of the annex to the International Convention for the Safety of Life at Sea (SOLAS) Convention 1978, as amended
The International Ship and Port Facility Code (2004), as amended
IMO Model Course 3.19, 2012 Edition
MNTB Security Courses Criteria, 2nd Edition
Approvals
Maritime and Coastguard Agency, The Norwegian Maritime Authority, The Marshall Islands Registry, Liberian Registry
Acceptance
This course may be accepted by other maritime administrations. Please contact us for details.
Available In Languages
English