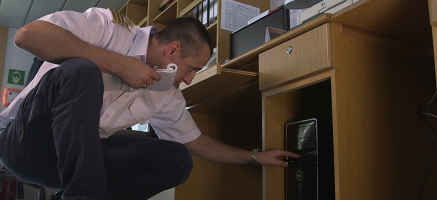 Product code: #6321
$

200.00
Excl. Sales Tax
Description
This course explores the role and responsibilities of personnel onboard ship with designated security duties. It introduces the ship security plan, examines ship security risks and threats and looks at the importance of regular security inspections. The proper and correct use of security equipment and systems is also covered.
The aim of the course is to give personnel onboard ship with a designated security duty the requisite knowledge needed to meet the requirements of Chapter VI of the STCW Convention and Code 1978, as amended by the 2010 Manila amendments.
On completion of this course you will receive a Certificate of Proficiency from Ocean Technologies Group, powered by Videotel or Seagull.
Please note:  The assessment part of this course must be completed onboard ship. The Master/senior officer onboard must sign and stamp your application form to verify they have directly supervised your eLearning assessment(s).
What you'll learn
Know why ship security is important and be aware of the roles and responsibilities of the organisations and individuals involved
Know what constitutes security risk, threat and vulnerability to the ship, its personnel, cargo and operations
Know the capabilities and limitations of security methods, equipment and systems
Know how to maintain the measures in a ship security plan and related requirements
Be able to maintain the effectiveness of security arrangements, procedures and equipment at the three security levels, taking into account their limitations
Course Contents
The course includes the following components.
Module #643.01 Designated Security Duties, Introduction
Module #643.02 Designated Security Duties, Security - Organisation and Responsibilities
Module #643.03 Designated Security Duties, Security On Board - Planning and Management
Module #643.04 Designated Security Duties, Security On Board - Routine Defences
Module #643.05 Designated Security Duties, Emergencies
Module #643.06 Designated Security Duties, Assessment
Workbook - Designated Security Duties (to be completed offline)
Supporting Material
Download below:
Prerequisites
There are no course prerequisites but you should read the course Documentation Checklist for Flag requirements
Regulations
• Regulation VI/6 and Section A-VI/6 of the STCW Convention and Code (2010)
• The International Ship and Port Facility Code (2004), as amended • IMO Model Course 3.26, 2012 Edition • MNTB Security Courses Criteria, 1st Edition
Approvals
Maritime and Coastguard Agency (MCA), Norwegian Maritime Authority (NMA), Marshall Islands Registry, Liberian Registry
For MCA or NMA certification, this course must be completed under supervision, onboard ship.
Acceptance
This course may be accepted by other maritime administrations. Please contact us for details.
Available In Languages
English