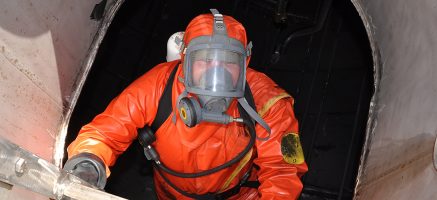 Product code: #6112
$

200.00
Excl. Sales Tax
Description
Every year, many seafarers are injured or killed during work in enclosed spaces. Despite the fact that just about everyone seems to be aware of the hazards, accidents with fatality and serious injury continue to happen.
This course provides knowledge and awareness of the hazards and dangers of enclosed space entry. It will also be helpful to those who plan and execute all mandatory enclosed space entry and rescue drills on board the vessel.
On completion of this course you will receive a Certificate of Completion from Ocean Technologies Group, powered by Marlins, Seagull and Videotel.
What you'll learn
Knowledge and awareness of the hazards and dangers in conjunction with an enclosed space entry.
Course Contents
The course includes the following components.
Module #0387 - Enclosed space entry
Module #0388 - Enclosed space entry
Module #0389 - Enclosed space entry
Module #0425 - Gas measurement
Module #0426 - Gas measurement
Workbook - Enclosed Space Entry
Supporting Material
Download below:
Prerequisites
There are no pre-requisites for this course
Regulations
SOLAS Chapter III, regulation 19
IMO Resolution A.1050(27)
The Merchant Shipping and Fishing Vessels (Entry into Enclosed Spaces) Regulations 2022
Approvals
Not applicable
Acceptance
Not applicable
Available In Languages
English