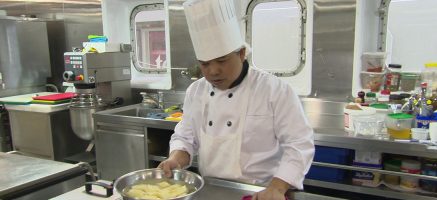 Product code: #6243
$

200.00
Excl. Sales Tax
Description
Working in a galley can be a hazardous place with risk of slips, trips, burns and cuts. It is also critical to ensure good personal and food hygiene. Further, ensuring proper nutrition and menu planning is also very important. Therefore it is vital that all personnel working in the galley know their role and have basic knowledge of these topics.
MLC 2006, mentioned as the fourth pillar of international maritime law, entered into force 20th of August 2013. Title 3 in MLC 2006 specifies detailed rules for accommodation, recreational facilities, food and catering. The purpose of the food and catering regulations are to ensure that seafarers have access to good quality food and drinking water provided under regulated hygienic conditions. The background of this course is to help galley staff meet the requirements in MLC 2006 A3.2 and guidelines in B3.2. which states "catering staff shall be properly trained or instructed for their positions"
On completion of this course you will receive a Certificate of Completion from Ocean Technologies Group, powered by Marlins, Seagull and Videotel.
What you'll learn
The objective of this distance course is to give the trainee an introduction to hazards involved in working in a galley and associated spaces and the precautions necessary to avoid them. It will emphasise importance of personal hygiene and cleanliness and the importance of safe and effective food handling related to food poisoning and precautions necessary to avoid them. It will also cover the importance of nutrional and dietary requirements, and the necessity to serve balanced meals.
Course Contents
The course includes the following components.
#0220 - Galley operations, Workplace and equipment safety
#0221 - Galley operations, Hygiene
#0222 - Galley operations, Food handling
#0223 - Galley operations, Nutrition
Supporting Material
Download below:
Prerequisites
There are no pre-requisites for this course
Regulations
MLC 2006 Regulation A3.2, Standard A3.2 and Guideline B3.2
Approvals
Not applicable
Acceptance
Not applicable
Available In Languages
English