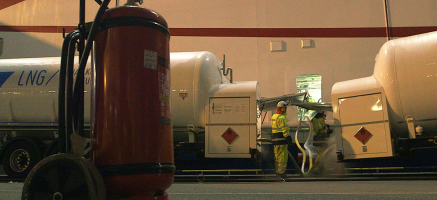 Product code: #6311
$

200.00
Excl. Sales Tax
Bulk purchase discounts
Register / log in to your account to see any bulk purchase discounts
Description
Increasing numbers of ships are now using LNG as a fuel in order to meet the low sulphur requirements of MARPOL Annex VI. Those involved in the bunkering process will need specialised training to ensure trouble free bunkering operations. In addition, other personnel on board or in ports where such bunkering operations take place will also need to understand the hazards associated with LNG bunkering and training in how to respond to emergency situations.
The Society for Gas as a Marine Fuel (SGMF) has defined this category as a 'Respond Level' and this course is based on the SGMF Competency and Assessment Guidelines.
This course:
describes the composition and usage of LNG and potential bunkering methods
explains what the hazards are and their consequences for the individual and the ship
describes the relevant procedures for fighting LNG fires
specifies the other emergency procedures that shipping companies and port authorities must put in place
On completion of this course you will receive a Certificate of Completion from Ocean Technologies Group powered by Marlins, Seagull and Videotel.
Please note:  The assessment part of this course must be completed onboard ship or onshore in the offices of a registered shipping company or maritime institution. The Master/senior officer onboard or a senior official onshore must sign and stamp your application form to verify they have directly supervised your eLearning assessment(s). For Flag approved courses, please refer to the 'approvals' section below for further information.
What you'll learn
be aware of the methods and techniques for fighting LNG fires and minimizing their risk
be familiar with the emergency procedures to be followed on ships carrying LNG as a fuel
understand the hazards associated with Liquefied Natural Gas (LNG) as a fuel
Course Contents
The course includes the following components.
Module #478 LNG Bunkering Operations, Respond Level
Supporting Material
Download below:
Prerequisites
There are no prerequisites for this course
Regulations
This LNG Bunkering Respond Level Course has been developed in accordance with: • SGMF Competency and Assessment Guidelines – Respond Level Training
Approvals
Not applicable
Acceptance
Not applicable
Available In Languages
English