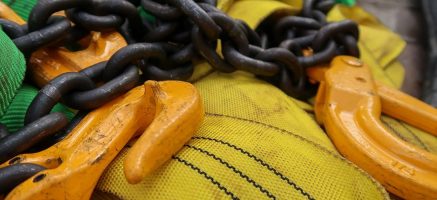 Product code: #6253
$

200.00
Excl. Sales Tax
Description
While lifting equipment is regularly used on ships without incident, these operations sometimes cause accidents. These can be very costly and often involve injury to personnel and damage to equipment. These accidents are often caused by a lack of maintenance and inspection or crew not following correct procedures, such as pre-use checks. With man-riding becoming more common, it is very important that the crane used is fit for purpose.
This training course aims to provide general and useful information about safe rigging and slinging practice. The program does not cover all types of equipment on ships/rigs but efforts have been made to cover the most commonly used equipment and provide the most useful and relevant information on each type of equipment.
On completion of this course you will receive a Certificate of Completion from Ocean Technologies Group, powered by Marlins, Seagull and Videotel.
Please note:  The assessment part of this course must be completed onboard ship or onshore in the offices of a registered shipping company or maritime institution. The Master/senior officer onboard or a senior official onshore must sign and stamp your application form to verify they have directly supervised your eLearning assessment(s). For Flag approved courses, please refer to the 'approvals' section below for further information.
What you'll learn
Regulations
Inspections of equipment
Safe use of rigging equipment
Maintenance of equipment
Slinging and lifting guidelines
Documentation
Course Contents
The course includes the following components.
Module #0317 - Lifting and slinging, Equipment and operation v4
Module #0318 - Lifting and slinging, Roles and responsibility v4
Module #0319 - Periodic maintenance and inspection of lifting equipment
Supporting Material
Download below:
Prerequisites
Not applicable
Regulations
• NORSOK R002 and NORSOK R003, Sdir
• Declaration, certificate and manual
• MGN 332: The merchant shipping and fishing vessels (Lifting operations and lifting equipment) Regulations 2006.
• 'Oil and Gas' (Formerly UKOOA) standards: Lifting and rigging competency standards.
• IMCA produce lifting guidelines: Guidelines for lifting operations.
• ILO convention 152 relates to lifting appliances used in port 'the chain register'.
• Guidelines for Offshore Marine Operations (GOMO)
Approvals
Not applicable
Acceptance
Not applicable
Available In Languages
English