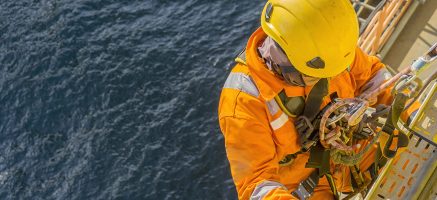 Product code: #6114
$

200.00
Excl. Sales Tax
Description
Falling from a height is one of the most common causes of death and injury of seafarers despite the effort to ensure safe working conditions for those onboard ships. International maritime regulations do not have many specific requirements for working at height, but the ISM code requires that risks associated with all work tasks onboard must be assessed before a job is started.
This course will define work at height; describe how to safely access working places at height and use of safety equipment. The course will also raise the awareness of risks with regards to dropped objects from work at height. In this onboard course we highlight the importance of having a strong safety culture in combination with good knowledge and following best practices when working at height. When the course is completed you will be able to define the term working at height, identify risks involved, know safety systems, understand risks with dropped objects and prevent accidents with dropped objects.
On completion of this course a Certificate of Completion will be issued by Ocean Technologies Group, powered by Marlins, Seagull and Videotel.
What you'll learn
Understand what is meant by working at height
Understand the risks associated with dropped objects and ways to prevent accidents associated with dropped objects
Identify the dangers to yourself and others when working at height
Identify how to access high work places safely
Recognise safe methods of working at height
Course Contents
The course includes the following components.
Module #0310 - Working at height and over the side
Module #0575 - Dropped objects
Workbook - Working at Height
Supporting Material
Download below:
Prerequisites
There are no pre-requisites for this course
Regulations
ISM Code
MLC 2006
Code of Safe Practices for Merchant Seafarers (COSWP)
ILO`s "Code of practice for accident prevention on board ships at sea and in port"
Approvals
Not applicable
Acceptance
Not applicable